"AGJ -Authentic Goods from Japan- " is the shopping site where you can find unique authentic Japanese products. We deliver our products to the U.S. and all over the world directly from Japan.
AGJ Original Maki-e Fountain Pen #11 "Takara Zukushi" Sailor King of Pen Ebonite Sparkling Togidashi Taka Maki-e Kyoto Japan Wa
AGJ Original Maki-e Fountain Pen #11 "Takara Zukushi" Sailor King of Pen Ebonite Sparkling Togidashi Taka Maki-e Kyoto Japan Wa
Our Selling Price: US$2,600.00(tax excluded)
This
AGJ
original
Maki-e Fountain pen
is made by famous Kyoto Maki-e Artisan "Daikai".
This pen is only one in the world. You can not find it anywhere.
Kyoto Maki-e
is the best known Maki-e technique in Japan.
This is original maki-e fountain pen based on Sailor 's fountain pen.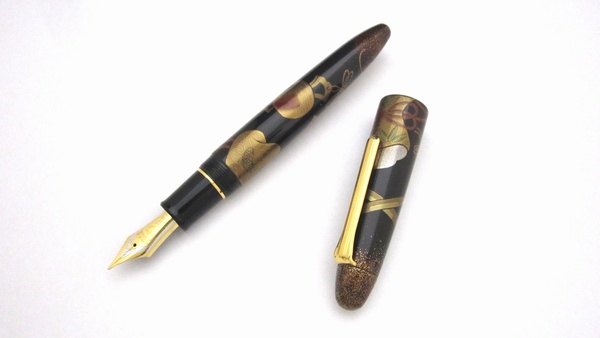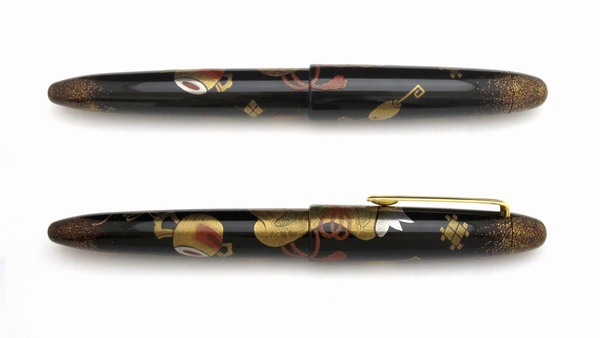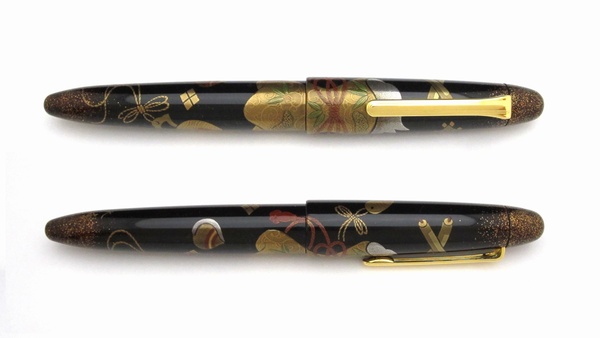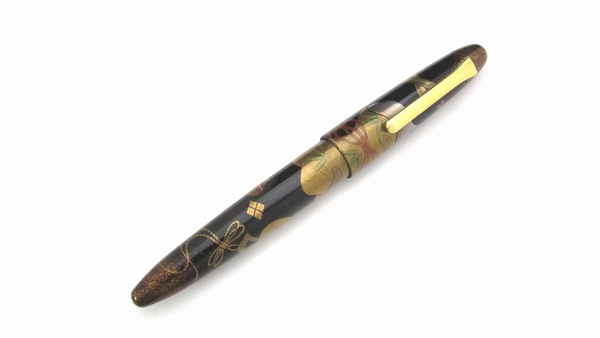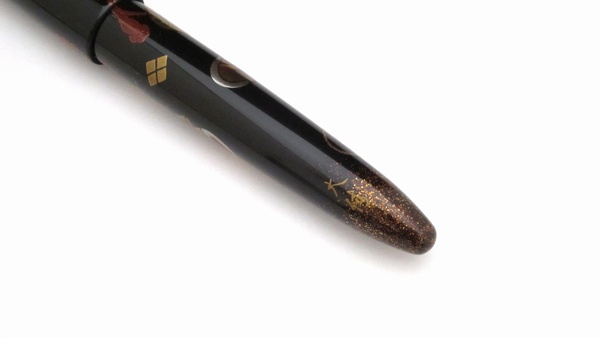 The design pattern called "Takara Zukushi," has traditionally used as a motif of good luck and happiness. Japanese people have used the pattern on kimono and tableware for those wishes.
In Edo period (15th century late 17th century), pattern on loincloth for women in samurai family had to be motif of good luck, so loincloths with Takara Zukushi pattern on black cloth were widely used by those women.
The pattern is originated from an idea called "Eight Treasures" of ancient China, and Japanese people started using it in Muromachi period (end of 12th - late 16th century). The eight treasures refer to "conch, wheel, parasol, urn, victory banner, lotus, fish, and endless knot." It also refers to "sword, fish-shaped drum, yin-yang board," "beads, coins, victory," "lock, rhinoceros horn."
Takara Zukushi in Japan generally refers to "wishes, jewel, key, magic mallet, wallet, hide cloak, clove, wreath, and cinerary box." One or combination of few of them is drawn as pattern.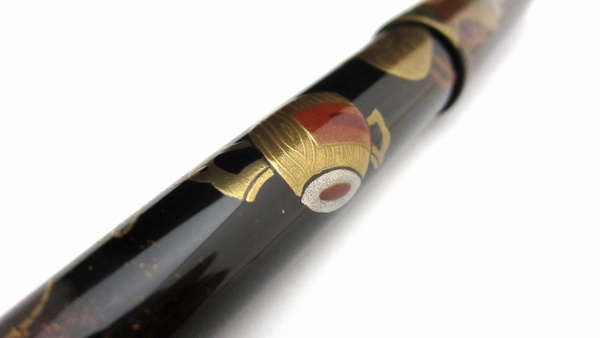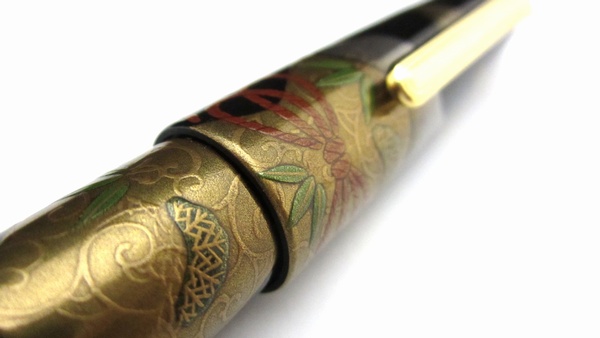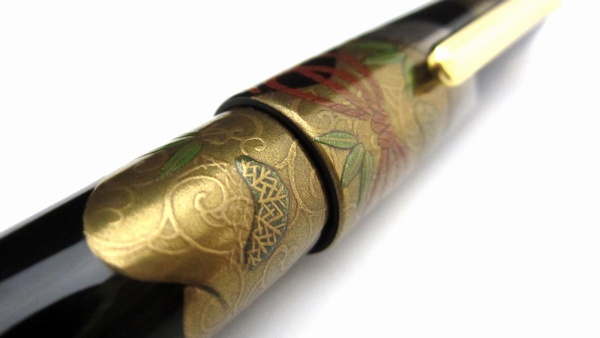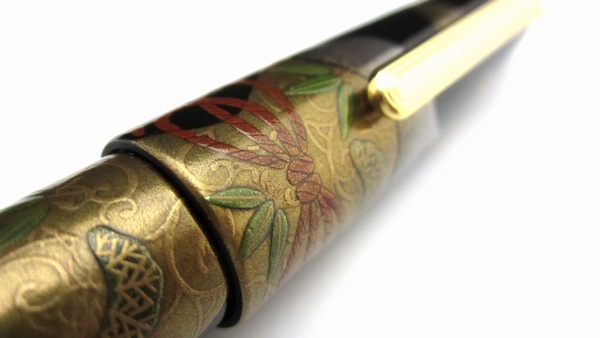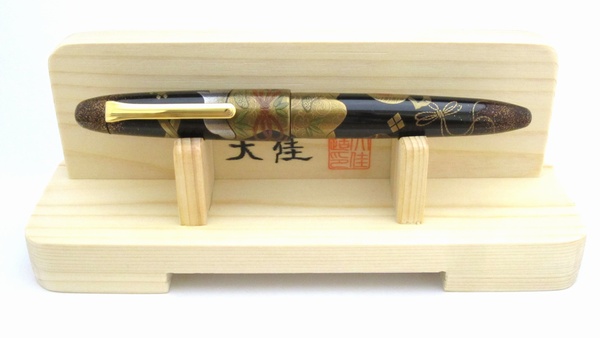 Process:
Shiny gold on the head of the cap and the end of the body (opposite side of the nib):
Hirame (thin gold plates) -Nashiji (gold aventurine) on Urushi lacquer on is burnished
Paint red lacquer (shiny area)
Sprinkle gold Hirame (in size 6 to 9)
Paint clear Nashiji lacquer on it
Dry it, and burnish it

The treasure bag and the magic mallet drawn on the middle of the body:

Thicken the treasure bag and the magic mallet, and paint with Bengara lacquer (red iron oxide)
Sink silver powder into the Bengara lacquer to swell it
Dry it, and paint Taka-age lacquer (mix of black and Bengara)
Dry it, then burnish it
The above process is for silver colored area.

Gold colored area, strap, and leaves (bamboo and pine tree):

Paint Bengara lacquer on 8
Sprinkle size 6 gold powder on it
Harden it with bright and colored lacquer
Dry it, then burnish it
Gold colored rhombic area:
Paint Bengara lacquer on 4 to make it adhesive. Then, sprinkle gold powder (in size 2,) and paint Uwazuri lacquer (raw lacquer) to harden it. Dry it, and burnish it to make it shiny.
As described above, it is Kyo maki-e which involves lots of processes to draw. It has longer history and considered as higher class than Kaga maki-e (technique used by Namiki.) It is not as colorful as.
[Description]
Name:
Takara Zukushi #11
( Sailor King of Pen Original )
Maki-e Artist:
DAIKAI
Technique:
Togidashi Taka Maki-e
Origin:
Kyoto, Japan
Nib:
Bicolor 21K Gold
Nib size:
Medium
Size:
20mm(Dia.) x 153.5mm
Shipping:
FREE SHIPPING!
Others:
AGJ Original Design Maki-e
With the pen stand
Custom engraving service on AGJ's original Maki-e fountain pens is available for those who wish.
The lead time: it takes 10-14 days on top (orders without this service will be usually dispatched in 3-5 days after confirming the payment).
The cost: US$100.00.
The letters of the name engraved will be engraved in gold just as the signature of the Makie artisans of Original fountain pens.
Please send us the sample letters which you wish to engrave on the pen (there could be a case where we are unable to engrave the letters of your choice after consulting with the Makie artisans. Letters can be in Japanese Kanji, Katakana and Hiragana but if you choose Kanji, we will use phonetic symbols).
Please indicate the exact position where you wish to have your name engraved (please understand that there could be a case where we may have to change the position of engraving after consulting with the Makie artisans).
*Please contact us should you have any queries regarding custom engraving service.
[DAIKAI's Career]
Year 1950
Born in Kyoto
His father, uncle, grand father and grand-grand father were Urushi Lacquer masters too.
1969
Another Urushi artist "Masakichi Shima" started teaching Daikai.
1976
Daikai began succeeding to inherit the style of Kyo makie(Maki-e).
1985
Won the Kyoto Chamber of Commerce Award at Kyoto Lacquerware exhibition.
1986
Held Urushi Lacquer exhibition at Kyoto Takashimaya(the largest department store in Japan).
1990
Exhibited at the Arts and Crafts in kyoto.
1991
Became a technical lecturer for the artists at the traditional industry at Kyoto.
1994
Opened his Kyoto Urushi lacquer school.
1995
Invited to display his works at INFA 1995 in Hannover, Germany.
1997
Won the award at the industrial techniques for the crafts in Kyoto.
1999
Held the first Kyoto Urushi lacquer school's exhibition at Ko-dai temple, Kyoto.
2001
He has held the traditional crafts exhibition every year since 2001.
2008
Held Amber Maki-e and Lacquer works exhibition at Sogo department store.
2009
Held Kyoto Urushi Lacquer exhibition at Takashimaya in Namba, Osaka.

He lives in Kyoto now and teaches many Maki-e artisans Kyoto-Makie technique.