"AGJ -Authentic Goods from Japan- " is the shopping site where you can find unique authentic Japanese products. We deliver our products to the U.S. and all over the world directly from Japan.
Sailor has released the Gimel jewelry fountain pens.
Gimel Fountain Pen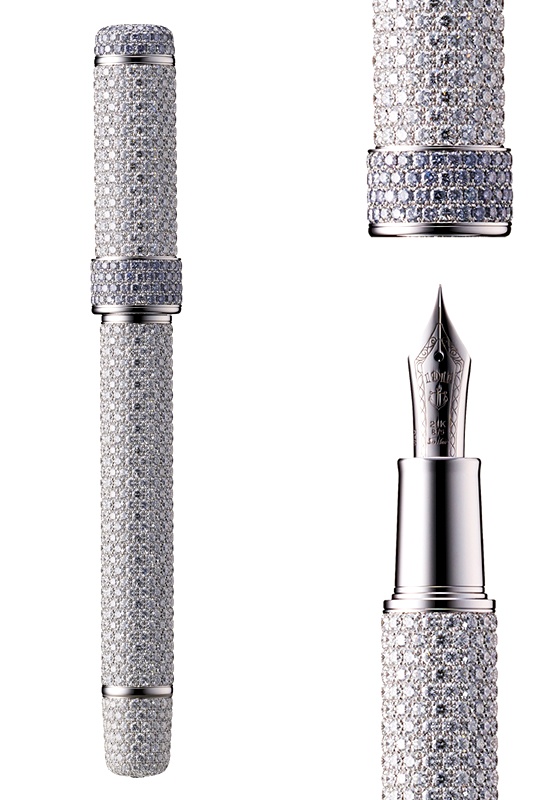 Gimel / US$700,000
Sailor pen Co., Ltd. and Gimel bring into the world one-of-a-kind masterpieces, commemorating the 100th anniversary of Sailor pen Co., Ltd.
Diamond 47.841 cts, Blue diamond 6.530 cts, Silver, 21K rhodium plate
Welcome to a Brilliant Forest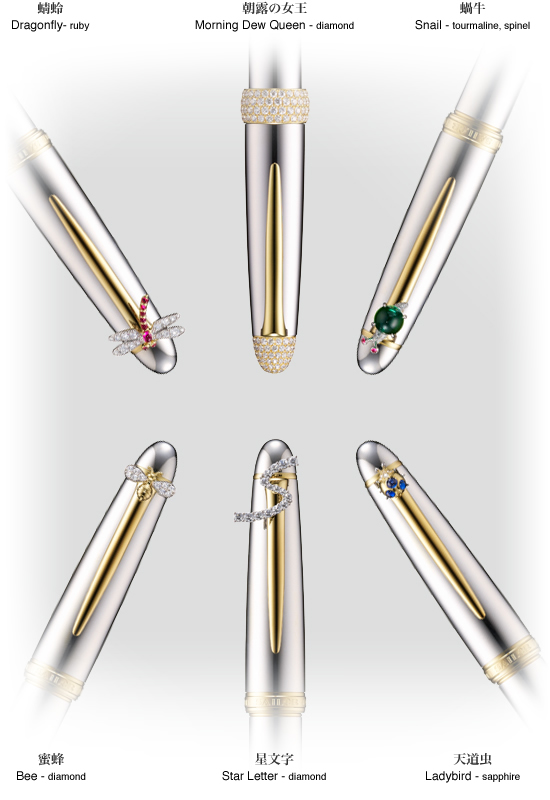 Sailor and Gimel resonate in harmonious concerto of brilliance and knowledge right at one's fingertips.
Morning Dew Queen : US$700,000
The heart leaps at the sight of such otherworldly radiance.
A surface so meticulously and completely blanketed in a rich constellation of diamonds, with no room to spare.
Pave means "stone pavement" in French, perhaps alluding to a cobblestone avenue leading to a morning dew Queen.
Careful removal of the stone-covered cap reveals yet another effulgence in the form of a 21k gold nib.
More than a writing implement, this is museum piece, exquisitely producing script that seemingly flows form the page as beams of ebullient light.
Diamonds Total 4.987cts
GA12573
Ladybird Ruby / Ladybird Sapphire : US$ 7,700
Playfully charming and elegant duo of cabochon cut rubies or sapphires in the form of ladybird against a radiant backdrop of yellow gold.
The ladybirds, from six legs to antennae, are wrought in the most refined platinum. Like grains of luminous life. Allured by the suffusion of light you wander to the pen's tip, reaching a 21k nib that has been painstakingly and patiently shaped, yielding to paper surface like a ladybird to sunlight, issuing forth fluid sweeps of aesthetic curves and lines.
Ladybird Ruby
Rubies Total 0.271cts, Diamonds Total 0.038cts
GA12598
Ladybird Sapphire
Sapphires Total 0.282cts, Diamonds Total 0.036cts
GA12599
Snail : US$ 17,000
Perk up your ears and you might hear the faint vibrating strum of an instrument string. A single cabochon cut grain of green tourmaline brims with a serene translucence that one might believe was taken from the condensed essence of the forest.
With eyes of cardinal spinel, the snail slowly scrutinizes the gentle nature of the world. Quietly remove the snail pen cap, one's eyes are instantly captivated by the sharp gold nib. It is strong and regal 21k gold. Each time the nib contacts paper, a transformation takes place form sharpness to profound tenderness.
Tourmaline Total 2.273cts, Diamonds Total 0.159cts, Spinel Total 0.032cts
GA12597
Bee : US$ 6,300
The dazzling bee; a mascot that Gimel has clung to closely with deep intimacy.
Its sheer wings, allowing the bee to take flight from the forest and set a course toward the sky, are coated in noble crystalline diamond. At rest in the palm of one's hand, it seems to sway ever so gently; a sparkling eulogy to nature.
The nib, a fusion of strength and grace in mature 21k gold, issues forth supple yet richly capacious lines, perfect for that morning when you feel like writing a long letter to a very special person.
Diamonds Total 0.141cts
GA12595
Dragonfly : US$ 14,000
Cabochon cut rubies and gold loops form the trunk of the dragonfly, evoking planets in sparkling alignment.
Wings unsparingly decked out in diamond gems compose an image of a flight into an ethereal forest of different dimensional light.
The 21k gold nib is meticulously shaped and molded; the product of months of uncompromising and high-quality polishing and finishing for a writing feel as limpid and fluid as water.
Diamonds Total 0.344cts, Rubies Total 0.269cts
GA12596
Star Letter : US$ 9,800
As if corralling sparkling stars in the celestial heavens into a new constellation, "Initial" features select diamonds exquisitely arranged on a bed of platinum in dramatic fashion. It's like a small Milky Way casting light on a forest; a 21k gold nib providing an extra source of brilliance to gently and softly accentuate your mood.
The most beautiful lettering in the world is yours forever.
*Other letters are available.
Diamonds Total 0.500cts
GA12600